Puget Sound Lighthouses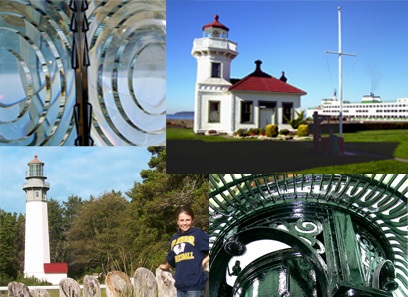 Duration: 5 Hours (approx.)
Location: Seattle, WA
Product code: PMY9AD
5 hours of NW fun! Travel in the quality comfort of our company SUV around the local region to see 3 different light houses. Alki and West Point are both in Seattle, so a quick zip over to each one to view. The Alki lighthouse is now fenced off, but is still worth a visit due to the location in West Seattle on Alki Point. West Point is on a sandy beach, so you can get up close for great photo shots. Depending on whether you booked for a Saturday or Sunday, you'll also visit either the Mukilteo lighthouse or the Browns Point lighthouse. The last two mentioned are the ones you can actually go inside.
Lighthouses saved lives in 1900s by providing a beacon of light to point how shallow water, or points in the topography that ships would hit by not seeing them. Puget Sound was carved out from a glacier about 13,000 years ago, and Sound is gouged with deep ravines and shoals. It's a boating navigator's nightmare, or was, for sure.

Join us and visit 3 local lighthouses.